Celebrity News
Celebrity News - Find the latest gossip and celebrity news on your favorite celebrities including actors, singers and more!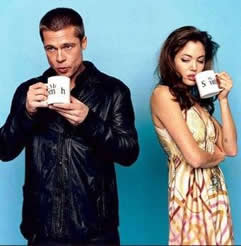 Pitt's Publicist Hits Back at Wedding Report
HOLLYWOOD - Brad Pitt's publicity team is furiously denying UK tabloid reports the movie hunk has wed Angelina Jolie in a secret ceremony.
Britain's Daily Star claims the couple exchanged vows in a recent Buddhist ceremony, attended by a few family and friends, but Pitt's publicist Cindy Guagenti insists the story is "completely not true."

She states, "They've used a wedding picture from (movie) Mr. and Mrs. Smith and run with this story on the front page. There's simply no truth to this whatsoever." Full story
Simpsons, Hilton and Richie Up for Razzies?
HOLLYWOOD - Next year's Golden Raspberry Awards is set to be a catfight between Hollywood's top party girls, with Jessica and Ashlee Simpson, Paris Hilton and Nicole Richie the frontrunners to land Worst Actress dishonors.

Insiders claim the foursome is the favorites to fight it out to be named the Worst Actress of the Year.
Full story

Read Story